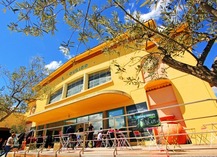 Phone :
+33 4 68 41 88 85
L'ODYSSEE DE L'OLIVIER
http://www.loulibo.com
Since 1942, the Oulibo has offered you to discover the world of olives and olive oil. Today labeled by the state "Entreprise du Patrimoine Vivant" for its exceptional know-how, the Oulibo welcomes you 7 days a week in its producers' shop. Taste the different oils and olives of the country, in particular the AOC Lucques du Languedoc, real green diamond of our region. The shop is also more than 400 references of the best local products made in Occitanie: honey, jams, cheeses, wines, cosmetics, tableware as well as many gift ideas. Guided tours of the Odyssey of the olive tree Carca Pass advantages: -2 € on the adult and family rate and - 5% on purchases in the shop after the visit.
From

Tue 01 Sep

2020
to

Wed 30 Sep

2020
From

Thu 01 Oct

2020
to

Thu 31 Dec

2020
| | | |
| --- | --- | --- |
| Monday | 08h | 20h |
| Tuesday | 08h | 20h |
| Wednesday | 08h | 20h |
| Thursday | 08h | 20h |
| Friday | 08h | 20h |
| Saturday | 09h | 20h |
| Sunday | 10h | 20h |
| | | |
| --- | --- | --- |
| Monday | 08h to 13h | 14h to 19h |
| Tuesday | 08h to 13h | 14h to 19h |
| Wednesday | 08h to 13h | 14h to 19h |
| Thursday | 08h to 13h | 14h to 19h |
| Friday | 08h to 13h | 14h to 19h |
| Saturday | 09h to 13h | 14h to 19h |
| Sunday | 10h to 13h | 14h to 19h |
| | | |
| --- | --- | --- |
| Monday | 08h to 12h | 14h to 18h |
| Tuesday | 08h to 12h | 14h to 18h |
| Wednesday | 08h to 12h | 14h to 18h |
| Thursday | 08h to 12h | 14h to 18h |
| Friday | 08h to 12h | 14h to 18h |
| Saturday | 09h to 12h | 14h to 18h |
| Sunday | 10h to 12h | 14h to 18h |
L'ODYSSEE DE L'OLIVIER
11120 Bize-Minervois
Phone :
Spoken languages