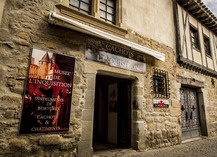 7 rue Saint Jean
La Cité
BP 1086
Phone :
+33 6 03 84 13 86
MUSÉE DE L'INQUISITION
http://www.musee-inquisition-carcassonne.com/
The Inquisition Museum is located in a large 17th century building and presents a large collection of Instruments of torture, ranging from the 12th century to the French Revolution. It is completed by the various characters who played an important role during this period as well as their biography. You will also find the history of the main Cathar Castles, part of the history of the Inquisition and the riches of our region. Explanations, Descriptions on panels, translated into French, English, Spanish, Italian and German, supplemented by videos. SCHOOL HOLIDAYS AND SATURDAYS 10 AM-7PM The visit continues at a place called Punishment with descriptive scenes from the Inquisition, to define the terrible journey that the Heretics underwent, from the Trial to the Bonfire.
Prices
Min
Max
説明
10.50€
9.50€
7.50€
9.50€
8.50€
6.50€
11.50€
8.50€
12.50€
11.50€
MUSÉE DE L'INQUISITION
住所 :
7 rue Saint Jean
La Cité
BP 1086
11000 Carcassonne
Phone :
Spoken languages