CENTRE CULTUREL DE LA MEMOIRE COMBATTANTE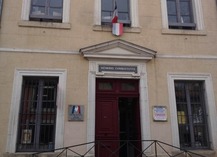 Phone :
+33 4 68 72 40 16
Phone :
+33 6 09 34 62 90
CENTRE CULTUREL DE LA MEMOIRE COMBATTANTE
http://centre-de-la-memoire-combattante.webnode.fr/
Exposure. Retrospective of military history using objects, costumes, accessories and documents. You will find on the ground floor a reading room where you will be able to consult periodicals and works dealing with conflicts having concerned our country, 1914-1918, 1939-1945, Indochina, Algeria as well as the recent external missions of our armies. You will also find a conference room, place of projection and periodic exhibitions. Upstairs is a permanent exhibition hall. Most of the objects or military outfits that enhance our center come from donations made by Veterans Affairs, their families or sympathizers. The association having only subscriptions from its members and donations, nevertheless wishes to be able to develop the actions undertaken. Closed on public holidays.
CENTRE CULTUREL DE LA MEMOIRE COMBATTANTE
11000 Carcassonne
Phone :
+33 4 68 72 40 16
+33 6 09 34 62 90
Spoken languages