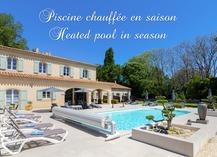 Avenue Saint-Martin
Hameau de Montredon
Phone :
+33 4 68 47 44 41
BASTIDE SAINT MARTIN
http://www.hotelbastidesaintmartin.com
Near the medieval city and the Canal du Midi, two sites classified as World Heritage by UNESCO, La Bastide Saint Martin will offer you peace, tranquility and rest. This charming 3 * hotel with private and closed parking is located in a large, fully enclosed park with 12m x 6m heated outdoor swimming pool. In this place which combines hospitality, comfort and well-being, we offer 15 air-conditioned rooms with a view the park or the pool. A stone's throw from the hotel, in the same park, the independent restaurant Château Saint Martin invites you to discover its cuisine of simple happiness.
©Hotel Bastide St Martin
©Hotel Bastide St Martin
©Hotel Bastide St Martin
©Hotel Bastide St Martin
©Hotel Bastide St Martin
©Hotel Bastide St Martin
Number of bedrooms : 15
Prices
Min
Max
説明
Application Period
89€
149€
2020
69€
149€
2020
135€
165€
2020
198€
258€
2020
12€
2020
1.43€
2020
113€
173€
2020
224€
284€
2020
BASTIDE SAINT MARTIN
住所 :
Avenue Saint-Martin
Hameau de Montredon
11000 Carcassonne
Phone :
Fax :
+33 4 68 47 74 70
Spoken languages