MAISON DE LA TRUFFE D'OCCITANIE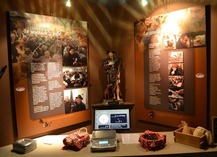 11160
Villeneuve-Minervois
Phone :
+33 4 68 72 35 47
MAISON DE LA TRUFFE D'OCCITANIE
http://www.maisondelatruffedoccitanie.com
It is through an interactive visit that you will discover the world of the truffle starting from the planting of the trees through the harvesting, marketing and ending with a gastronomic approach to the famous black diamond. A film in which we see, in addition, a demonstration of digging (search for the truffle with a dog or a pig), a familiarization with smells, for the youngest, a quiz allowing them to discover the truffle in the form of a game and many other things allow the visitor to unravel the mystery of the most precious mushroom. You will be exposed to recipes developed by starred chefs from this prestigious mushroom.
MAISON DE LA TRUFFE
MAISON DE LA TRUFFE
MAISON DE LA TRUFFE
MAISON DE LA TRUFFE
MAISON DE LA TRUFFE
MAISON DE LA TRUFFE
MAISON DE LA TRUFFE
From Wed 01 Apr 2020 to Tue 30 Jun 2020
From Wed 01 Jul 2020 to Mon 31 Aug 2020
From Tue 01 Sep 2020 to Sat 31 Oct 2020
From Sun 01 Nov 2020 to Thu 31 Dec 2020
| | | |
| --- | --- | --- |
| Monday | 10h to 12h | 14h to 18h |
| Tuesday | 10h to 12h | 14h to 18h |
| Wednesday | 10h to 12h | 14h to 18h |
| Thursday | 10h to 12h | 14h to 18h |
| Friday | 10h to 12h | 14h to 18h |
| Saturday | 10h to 12h | 14h to 18h |
| Sunday | - | - |
Opened :
10h to 12h30
14h to 18h30
Opened :
10h to 13h
14h to 19h
Opened :
10h to 12h30
14h to 18h30
| | | |
| --- | --- | --- |
| Monday | 10h to 12h | 14h to 18h |
| Tuesday | 10h to 12h | 14h to 18h |
| Wednesday | 10h to 12h | 14h to 18h |
| Thursday | 10h to 12h | 14h to 18h |
| Friday | 10h to 12h | 14h to 18h |
| Saturday | 10h to 12h | 14h to 18h |
| Sunday | - | - |
MAISON DE LA TRUFFE D'OCCITANIE
住所 :
32 avenue du Jeu de Mail
11160 Villeneuve-Minervois
Phone :
Spoken languages